Chip Douglas (No relation to Fred MacMurray) is one of the most underappreciated producers of the 60s pop era. Most people have never heard of him, but he left some huge fingerprints while shaping a few of the era's biggest hits in the 67-68 period. Getting his start with the Modern Folk Quartet in the early 60s, he joined the short-lived Gene Clark Group in mid 1966 right after Clark had left the Byrds. Then Douglas hit his stride. 
Consider for a second:   
Happy Together - Feb. '67 - The Turtles (High #1) - written by Gary Bonner and Alan Gordon. Chip Douglas had just joined the Turtles on bass, and according to Mark Volman, this production is Chip's baby. An iconic hit record. There's literally not a hearing person in the entire English-speaking world that hasn't sung along to this song at least once.
Pleasant Valley Sunday - June '67 - The Monkees - (High #3) written by Carole King and Gerry Goffin. If you've heard Carole King's demo of this, you will recognize the song, but it's really nothing like the Monkees' version. The vitality and urgency are born in this Chip Douglas production. He wrote the signature guitar lick for Mike Nesmith and also introduced the dramatic breaks/stabs. Once again, this is an epic pop production. 
Pleasant Valley Sunday - The Monkees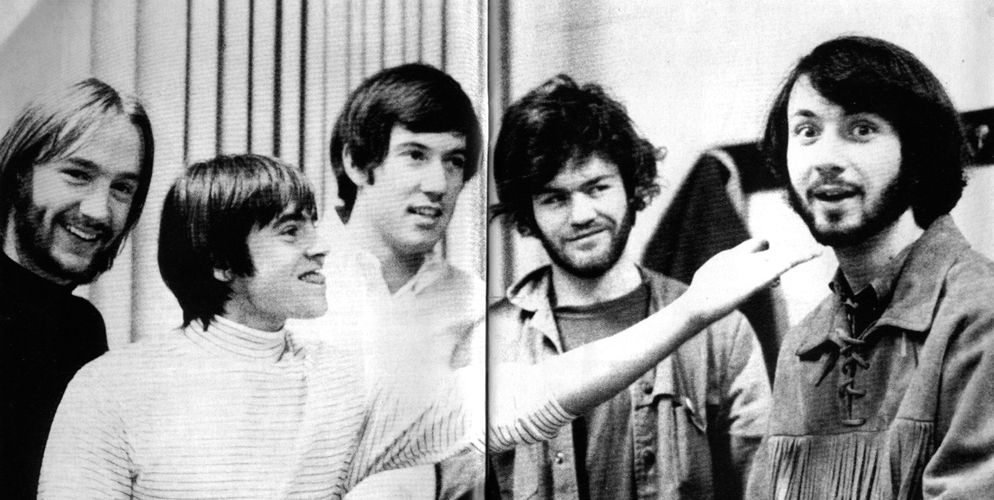 Peter Tork, Davey Jones, Chip Douglas, Mickey Dolenz, & Mike Nesmith
Daydream Believer - Oct. '67 - The Monkees - (High #1) written by John Stewart. Once again, if you listen to Stewart's original version, you'll hear the transformation from a Kris Kristofferson sort of back porch rustic piece into pure pop magic. Peter Tork played the backbone piano track and the great horn and string arrangement was done by Shorty Rogers. But Douglas was the producer on this. Musically, it's perfect; lyrically, it has holes. Choices were made to take the grittiness out of Stewart's original narrative. It's supposed to be about a young couple who are now in a stage where domestic bliss has turned to routine and having to go work in the morning. And money is tight.
The original line:    
"My shaving razor's old and it stinks."    
was changed to:   
"My shaving razor's cold and it stings."    
I suppose the Monkees' label, Colgems felt that a razor being old and stinky isn't a quality of which hit singles are made. Though, I don't think this change hurts the song at all, really.    
But, the original line:     
"You once thought of me as a white knight on his steed. Now you know how funky I can be."     
was changed to:     
"Now you know how happy I can be."     
"Now you know I'm a flawed real human being," is the sentiment here. But somebody didn't want to put the word "funky" in there. Who knows, maybe it was Chip Douglas. (This alteration always bothered Stewart, btw) An all around great record, mid-60s radio pop cannot be done any better than this.  
 Daydream Believer - The Monkees  
Elenore - Sept. '68 - The Turtles - (High #6) written by The Turtles (Howard Kaylan, Mark Volman, Al Nichols, Jim Pons, Johnny Barbata) This started as an ironic tongue in cheek statement on sing-songy pop hits in response to their label, White Whale, always pressuring the Turtles to churn out another Happy Together. Apparently, White Whale didn't mind being mocked; they knew a hit when they heard one. They released it as a single anyway and it went Top Ten on Billboard in the fall of '68.
You Showed Me - Dec. '68 - The Turtles - (High #6) written by Jim McGuinn and Gene Clark. The Turtles could sing beautifully and this is vocally exquisite. Apparently, while showing this to the Turtles, Douglas played it slowly due to broken baffles on the pump organ. It was noticeably slower than the original Byrds' version and Chip preferred it faster. Volman and Kaylan liked it slower and it was clearly the right choice. The dreamy vocal approach in the verses, the sparseness in the production and the glissando strings flow languidly in the slower tempo, creating a nice sliver of pop psychedelia, which at this point, was starting to disappear from the landscape. 
After this amazing run, Chip Douglas never again had a record in the Top Ten or anywhere near it, for that matter. He worked off and on with the Turtles and the Monkees into the 70's to more modest success, but he shone brightly for a spell of about two year back in that magical time of '67-68.  
PR  
- March 2019 -