About Crayons
Crayons is a record I made in 2009-20012 with Matt Cullen, a sometimes mentor, sometimes student, sometimes collaborator, and always my musical conscience. We have a lot of history. Making this record with him was a treat. I wish I could make all of them with him.
I had a bunch of material laying around and in hindsight, I should have known that it would come down to these songs or that I would make this type of album. These songs needed to get out. We started recording in my studio in Florence, MA on August 19,2009 where I was living with my soon-to-be ex-wife. The following January, she and I would split up and I moved myself and my studio into a house on Prospect St. in Northampton. It was there that Matty and I would finished these basic tracks by the following August. This is the order in which we started any of the songs that landed on this record.
In order of beginance: (Don't start with me!)
Peaches and Lemon Lime – Written very quickly and it sat around for a few years until Crayons.  Easy song to write. Just list the things that you want, even if it's unrealistic and it makes you sound like a brat. Then turn dark with it. Juss cuz. Written on the same day that I found and finished Amelia Earhart. 
Medicine Ride – I always heard this as a Neil Young thing where he sings and plays the piano like a child. I mention Suntan Joe, a Northampton fixture back in the day. He used to stand out on the corner with no shirt on getting a tan, even in the winter. Originally recorded in D major, eventually lowered to C. I still have that old version around. All sung falsetto. I sound like a castrato who got kicked in the nuts. You can't understand a word I say.
Got to Keep on Movin' – Written on a hazy summer day at The Hadley House. Walking around in the yard playing when this came. Went inside, did a quick  demo. We stayed true to it. Sam Barnes, violinist extraordinaire, played amazing, freaky stuff on this with a lot of echo. When that take was finished, my heart was beating through my chest. That's never happened to me before or since. I think it was the devil.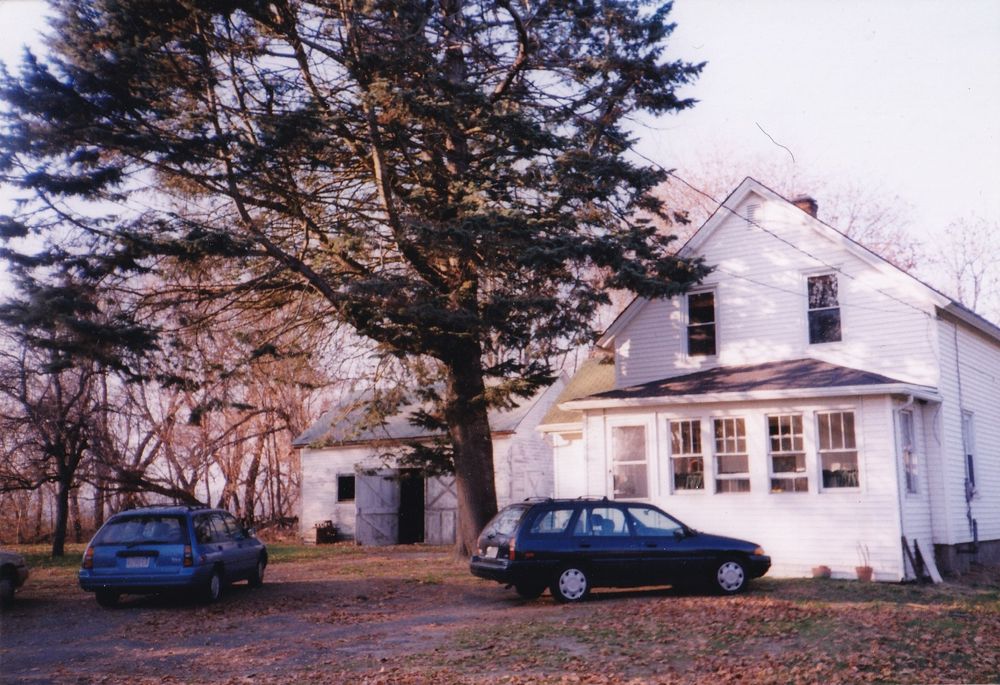 Don't Go in the Water Now – This is may be my favorite song on Crayons. I wrote it mostly up in Northfield, MA. It plays like a Bergman film in my head. Black and white. Stark and grey. Cold and damp. The hapless romancer trying to be somebody's hero but he's just a fuck-up with good intentions.
Baby Adolph – This is a song that started out as a joke and an exercise just to amuse myself. I remember singing it at a bar to a couple of friends back in the summer 2007 and they kept making bad suggestions for the still-unwritten third verse.
    
"It requires a unique first name, guys! Jeffrey Dahmer doesn't work! Neither does Ted
Bundy!"   
When we began the recording it, things started sounding real good right away. We stumbled upon half-speed recording and this was the first instance where we used both the Mellotron strings and flutes simultaneously. The double-tracked Nashville in the coda is special for me and that came last. Gallows humor goes a long way in this one. Good fade to end an album on.
Tomorrow Soon - Written in Hadley a few years ago. Big strummy 12-string acoustic chord circle. Matty and I wrote the guitar solo together. He also came up with the plink piano part in the choruses if I'm not mistaken. This is the last song that we worked on in Florence before moving on to Prospect St. 
Crayons – This song went from being called Crayons to Seagulls to Lovebirds and back to Crayons between its origins and 2010. A solo version (as Lovebirds)was included on my earlier acoustic collection, Breakfast Epiphanies a few years back. My friend, Bob Sherwood had schooled me on Nashville-strung guitars and it opened up a whole new world for me. I most prefer to open tune it with dropped Ds while finger-picking it. I wrote at least four songs like that.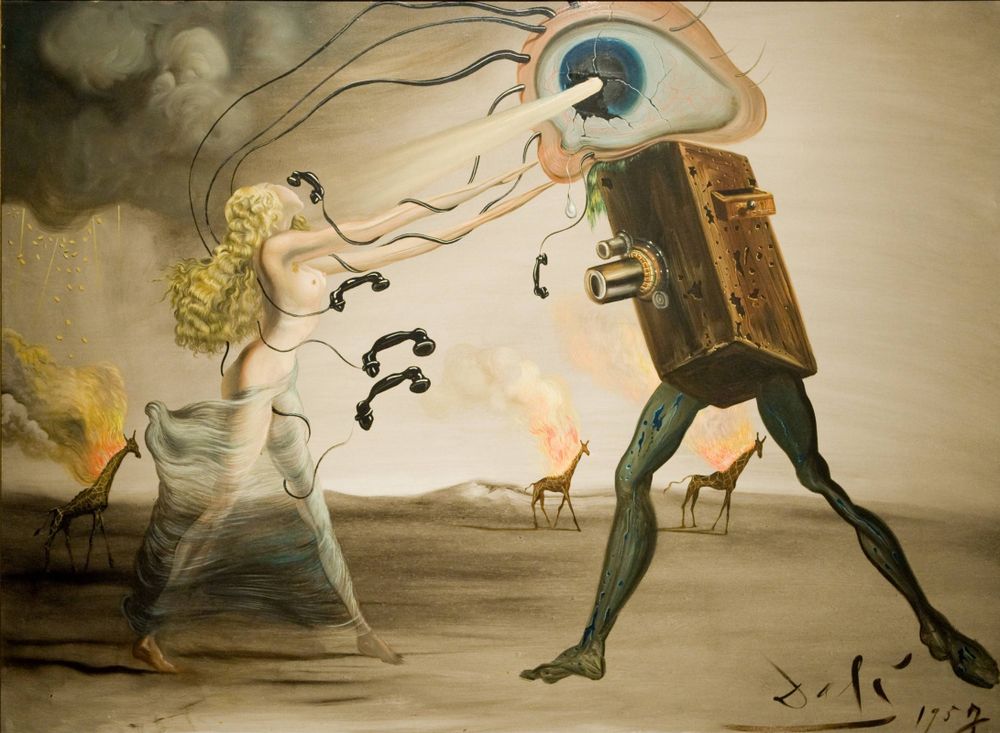 Burning Giraffes and Telephones – I had the Dali poster on my wall, compliments of my roommate, Nelson Bragg. I knew I'd use it for a title. The song's about American foreign policy and meddling around the globe. I was in a zone when I wrote this lyric and music, all in one day. In retrospect, it seems descriptive of Trump 25 years later:    
Burning Giraffes and Telephones
"We stand on our chairs and scream, "We're Number One!"
We drink the the Sun, we shoot the Moon
We bleed the Earth and paint the town
We can't recall what makes the world go around 
Caught between the child and clown   
It's innocence lost and it's ignorance found   
It's a paradox, it's the ugly fox   
It's the bawling brat with his building blocks
And later ….   
We build a wall around our hearts   
To keep us in and keep them out   
We don't know the first of what love is about
The wall is thick and all around
So long a ways up and a longer way down
It's paradise on thin ice
Put your helmets on and close your eyes
For it's going to be a bumpy ride
Bye bye
Peace Sign on the Wall – I have a wooden peace sign that belonged to my late brother, Phillip. When he died, it was one of the things of his that I said I'd like to have. In 2008, I got the melody and chords to the verse and saw the sculpture hanging on my studio wall in Florence. My brother was a pretty volatile guy, so he owning a peace sign came with its own special brand of irony. But wait, it gets better. He also claimed to have made it in high school shop class and I had trouble believing him. He didn't have the discipline, if even the skill. I always assumed he stole it because he liked it. I wrote the chorus a few months later. Matty's guitar playing on this is sublime.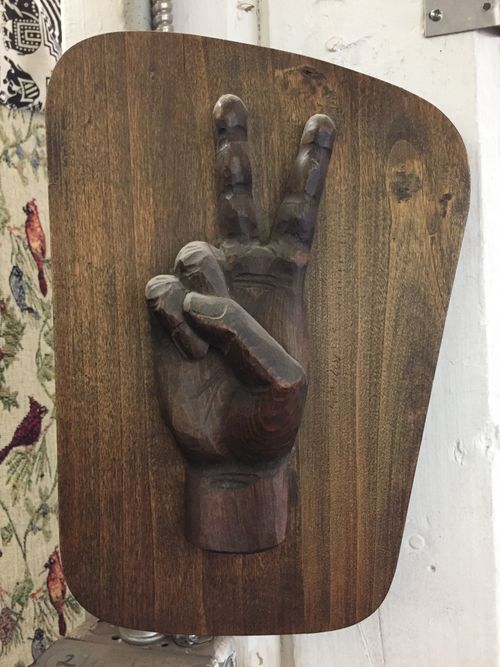 Sevens into Nines – Stumbled upon this chord progression because I made a mistake while writing a keyboard part for another song. This whole song came from that. True story about a girl who mysteriously shut me down after one date. That's okay. I got a decent song out of it.
Sunshine Sue –  I often write songs about an infatuation with an idealized woman who doesn't even know I'm alive. I think I do that so that the feeling of rejection is always fresh in my mind. That way, if rejection happens (as sure as it will) I'll have a head start. A dear friend, the late, great Ray Neades suggested the tambourine on the chorus, which was a great idea. He died while I was making this record and I think of him whenever I focus on the tambourine during that part of the song.
Amelia Earhart – After discovering the verse guitar piece on my pocket recorder from months before, I finished it in about 15 minutes. It is the most twisted little ditty of mine. My roommate, Marc Runkel later suggested, "now she's scattered near Japan" instead of "scattered in the sand." Thanks, Wunka! I was feeling it this day. I also wrote Peaches and Lemon Lime in this sitting. This song first appeared as a solo performance on Breakfast Epiphanies.
Fairies in a Yorkshire Glen – "Remember to have fun and enjoy life!" say those crazy elves and fairies. I heard the title phrase on a TV show and immediately sang the first verse in entirety without picking up an instrument. About a month later, while playing with Matty, and I showed him this and he really liked it. His encouragement made me take this song more seriously. A couple of weeks later, he came back and we recorded three takes with me on six-string and he on twelve. I did some pitch-controlled vocals in the middle to sound like elves and taught myself a few chords one the mandolin. This was a last-second replacement for Acacia Tree for inclusion on Crayons.